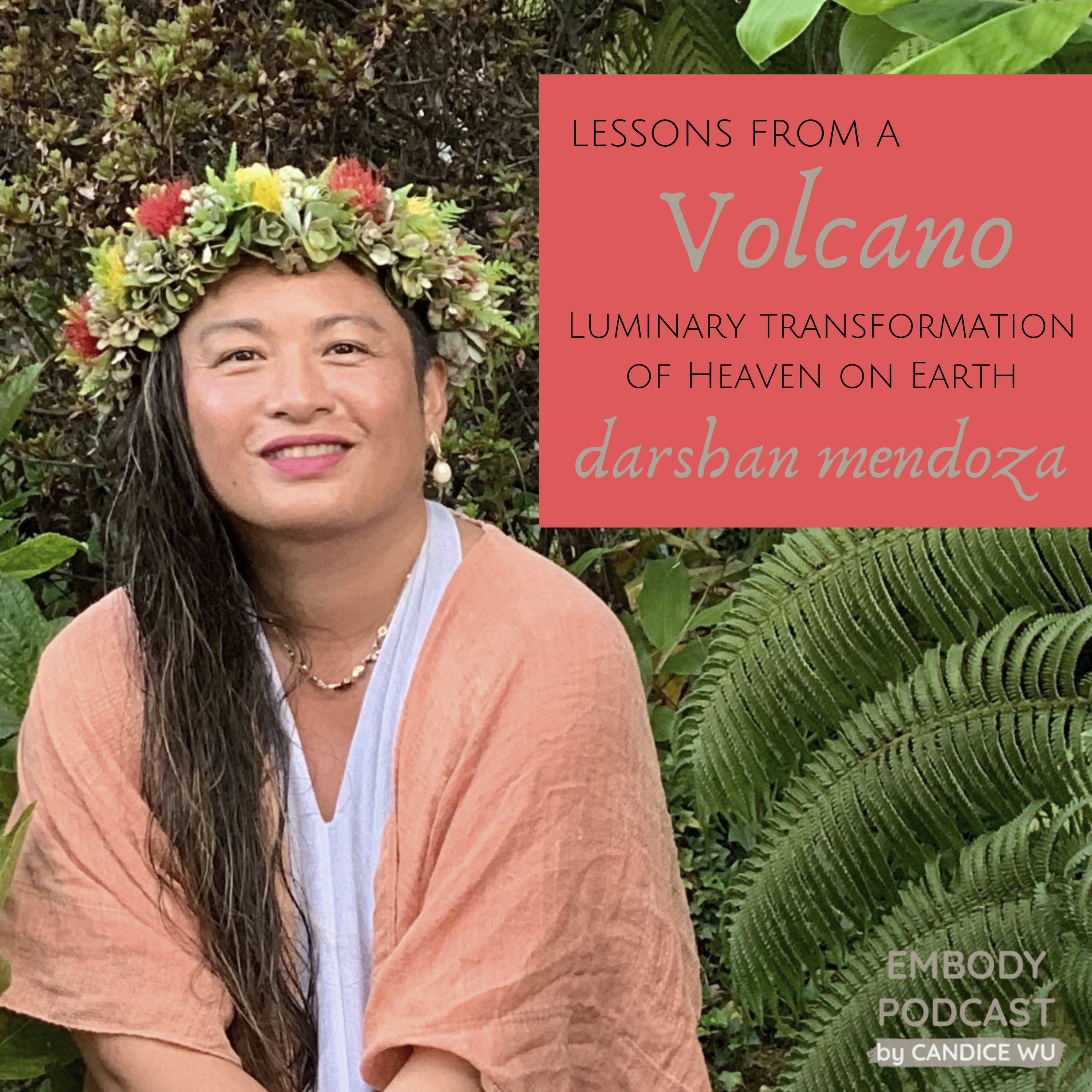 "A New Earth began to form beneath our feet. Volcanic ashes filled the air. Sulfuric particles embedded themselves into our hair, onto our skin and tongues. My mouth was coated in ashes, my lungs were processing the particles alongside the grief of so many things passing, burning too quickly for my heart to comprehend. I found these notes and postings I had written during the first month of the eruption." 
~ Darshan Mendoza, from her book The Luminary Journey: Lessons from a Volcano in Creating a Healing Center and Becoming the Leader You Were Born to Be
Darshan is an incredible visionary and sees the magic that nature is showing us! She is alive and awake to share the lessons and experience from the Big Island of Hawai'i Volcano erupting in 2018. She shares her beautiful journey in seeing transformation through devastation; the acceleration of a new Earth emerging, which catapulted her into a whole new life.
We talk on the podcast about resetting our vibration with our names, her grandmother's secret and adventurous life, and Darshan's message to embody the Hopi saying "we are the ones we have been hoping for." Also in this episode, her connection with friend, Anutosh Foo, and the most beautiful experience of dying, and the chapter of her life that is happening now: trusting intuition and seeing the divine.
Darshan Mendoza is the spiritual director of Akuahā, a healing retreat in Volcano, Hawai'i. She curates personalized journeys of healing, transformation, and visionary incubation for her guests and clients for planetary transformation. In 2019, she launches The Luminary Journey, a new-moon-to-new-moon program and residency, where Luminaries birth their visions in a holistic and embodied way into the world.
Darshan was born in Manila, Philippines and moved to Chicago with her family at the age of seven. She graduated from the University of Illinois Urbana-Champaign with a BA in political science and minors in English and philosophy. She explored the world of law as a student at the John Marshall Law School and the world of creative writing at Columbia College Chicago. She worked as a paralegal, journalist and editor before her spontaneous Kundalini Awakening which led her onto a Healer's Path.
Soon enough the Ancestors of Hawai'i called Darshan to The Big Island where she began an accelerated decade-long Mystery School where she learned from wisdom keepers from the Philippines, Hawai'i, India, Tibet, the Black Foot and Navajo Nations, Burkina Faso, Nigeria, Mexico, Japan, China, New Zealand, the Bioenergetics Quantum Field, and the Kundalini Yoga and Meditation Lineage. The simplest way to describe Darshan is that of a visionary, healer, and teacher. She is committed to anchor in heaven on earth by creating healing centers, visionary incubation labs, and schools all over the world and supporting Luminaries in discovering their genius and sharing it with the world. She finds home in Hawai'i, Chicago, and the Philippines.
Links, Article, and Resources
All Show Notes for This Episode
📝 https://candicewu.com/darshan
 Podcast Homepage
🎧 https://candicewu.com/podcast
Newsletter & Embody Community
💌 https://candicewu.com/embody-community
Donations – Your Support Means So Much!
💝 https://candicewu.com/support
Candice Wu Page on Facebook
👫 https://facebook.com/EmbodyYourNature
Follow Candice on Instagram
📷 https://instagram.com/EmbodyYourNature
Sponsored by YOU : Receive a Personalized Meditation
Receive a nourishing personal meditation as a gift in support of the Embody Podcast! Share your donation of any amount, or click on Personal Meditation on this link to receive a one-time or quarterly healing experiential or meditation delivered to your email for you to download and use. Candice intuitively tunes into any words or desires you share with her to create a 10–20 minute meditation. This is also great as a gift. All the proceeds go towards The Embody Podcast production.
To Support the Show With a Donation: CandiceWu.com/support
To Receive a Personalized Healing Meditation: CandiceWu.com/personalmeditation
Show Notes
0:00 Intro
1:42 Sponsored by YOU : Receive a Personalized Meditation
3:30 Transcripts of The Embody Podcast
4:54 Introducing Darshan
8:59 Welcoming Darshan
9:39 Darshan's Name, Resetting Our Vibration Through Our Name
11:30 That's Not Your Name
15:18 Tapping Into the Words That Describe Us
17:32 Candice's Different Names
20:30 Having a Secret Super Hero Name and the Power That Comes With It
22:17 Shifting Names to Americanize but the Real One Comes With So Much More
22:52 Accepting a new name & Learning the Connection to Herself
25:58 A Story About Darshan's Great Grandmother: From China to the Philippines, Trust in the World, and Staying Secret
31:31 Snippets from Darshan's Book
34:11 What Darshan Experienced: The New Earth & Spiritual Journey
39:10 We are Going to Transform Heaven on Earth
41:43 Experiencing the Transformation not only on Hawai'i
44:29 The Transformation on Media
45:49 Seeing the Transformation inside the Devastation
47:07 Life is Accelerating & Healing Transformation is the Key
50:34 Is this reality or a dream?
51:40 One of Darshan's Mentor: Anutosh Fu
54:48 Sharing the Most Beautiful Experience of Dying
58:11 What would be the chapter title of right now?
1:04:44 Trusting Intuition & Seeing The Divine
1:04:45 (Interference on the audio starts here - oh my!)
1:06:41 Sharing Gratitude
1:08:13 Where can you find Darshan Mendoza and her Book?
1:11:26 Anything Else?
1:13:09 Outro, Gratitude, and Advanced Reader Copy
1:15:12 The Embody Newsletter
1:15:33 Thoughts & Feelings from Candice