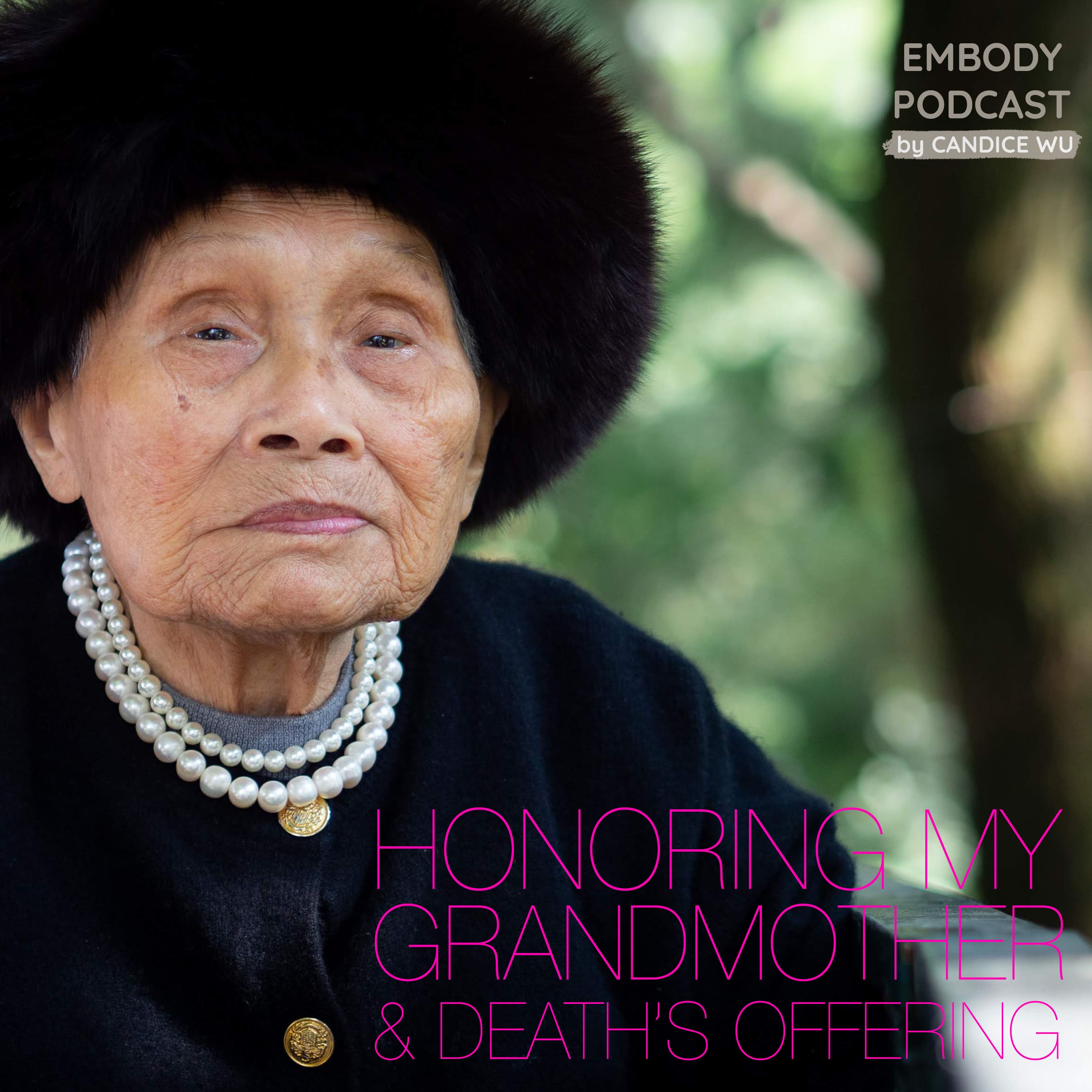 Experiencing my grandmother's death has brought me to honor her in a very big way - in honoring her worth to me, and her worth to all those sharing a piece of her story, I must honor my own worth -- and this has brought me new levels of abundance and self-love.
In this episode, I share my grandmother's story, and mine with her, explore some recent thoughts on death, and how I am integrating the wisdom I am gaining from her life.
I jump into shadow work and how we can use loss to bring us to more wholeness, and we can use our imagination to empower us now. I share three ways in which one can explore death to breathe in life and to know oneself more deeply.
To ignore death is to ignore life. So here's to embracing it to bring more and to know more of ourselves.
Links, Article, and Resources
All Show Notes for This Episode
Podcast Homepage
🎧 https://candicewu.com/podcast
Newsletter & Embody Community
💌 https://candicewu.com/embody-community
Patreon – Your Support Means So Much!
💝 https://candicewu.com/patreon
Candice Wu Page on Facebook
👫 https://facebook.com/EmbodyYourNature
Follow Candice on Instagram
📷 https://instagram.com/EmbodyYourNature
Sponsorship Message
If the Embody Podcast, my writing, or guided healing meditations have inspired you, helped, or spoken to you, it would mean the world to me if you would show your support through a small donation.
Each creation is lovingly made from my soul and takes anywhere from weeks to a few days to develop and produce. I gladly pay an editor who supports me in polishing and creating high quality content.
As little as $1 a month would nourish my podcast and other creations to continue to have life and cover costs. Plus you'll receive some sweet personalized healing gifts from me that can deepen your embodiment on your own journey.
Thank you from the bottom of my heart! I am so appreciative.
Show Notes & Timestamps 
00:00 Intro
01:06 Sharing Gratitude & Becoming a Patron of the Embody Podcast
02:09 Travel Update (Bali > Hong Kong > Kl)
03:15 Let's Jump Into the Topic: Death
03:27 No Judgement Around Reactions to Death
04:19 Notice What's Coming Up
04:26 Death: A Sharp Opportunity to See Your Projections, Existence, and Spirituality
05:30 Clear Stop to What Connects Us Consciously and Unconsciously
06:21 Jungian Theory - Bringing the Shadow to the Surface
06:49 Not Knowing Why You Feel What You Feel
07:36 Sorting the Intergenerational Dynamics
08:28 How Grief Has Been Processed in Your Ancestry Affects You Now
09:18 Grief Demands to Be Felt in the Soul of the Family
09:50 My Personal Story With My Grandma
10:14 How the Morning Is to Be Had
11:21 Funeral Experience Great Grandmother
11:45 My Grandmother's Arrival to the Us
12:22 Dog Poop Rice!
13:41 a Drastic Change in 2002
14:12 Visiting Hong Kong: Every Time Felt Like the Last Time.
14:28 Her 96th Birthday Party
14:54 Learning More About Someone After They Passed
15:31 Her Good Deeds
16:13 My Family's Part in Saving Many Chinese During the Japan Invasion of China
16:59 Going Back for Two Village Children
18:03 Proud That She's My Grandmother
18:12 Being Enough
19:36 We Are a Reflection of Worthiness Before Us
20:16 Abundance in Life
21:11 Seeing My Mother More Clearly and Where I Belong
22:04 Abundance Equated With Working Hard in the Past
23:14 My Grandmother the Feminist
24:12 Working Easy = Shifting
25:18 Guilt for Working Easy
25:56 She's Living in Me and Through Me...
26:23 Mention Faith Hill Song "Everywhere I Am, There You'll Be"
26:37 Ideas and Exercises to Explore Death for Yourself
26:50 Looking at Death Gives You More Life
27:40 the Shaman's Death
28:22 Mention of Ally With Death
28:29 Writing Your Own Eulogy
29:10 Imagine the People You Worry About Dying
32:28 Cultivating the Qualities in Yourself
34:03 Shaman's Death in Reverse
35:04 a Choice to Explore Death
35:37 Experience and Gentleness
35:53 Ally With Death - My Shaman's Death Online Experiencial
36:48 Last Thoughts About Death
36:54 Honoring Death Is Honoring Life
37:10 Denial of Death Is Like Denial of Life
38:14 Thank You for Joining Me Today & Listening
38:57 Patreon
39:21 Outro & Newsletter