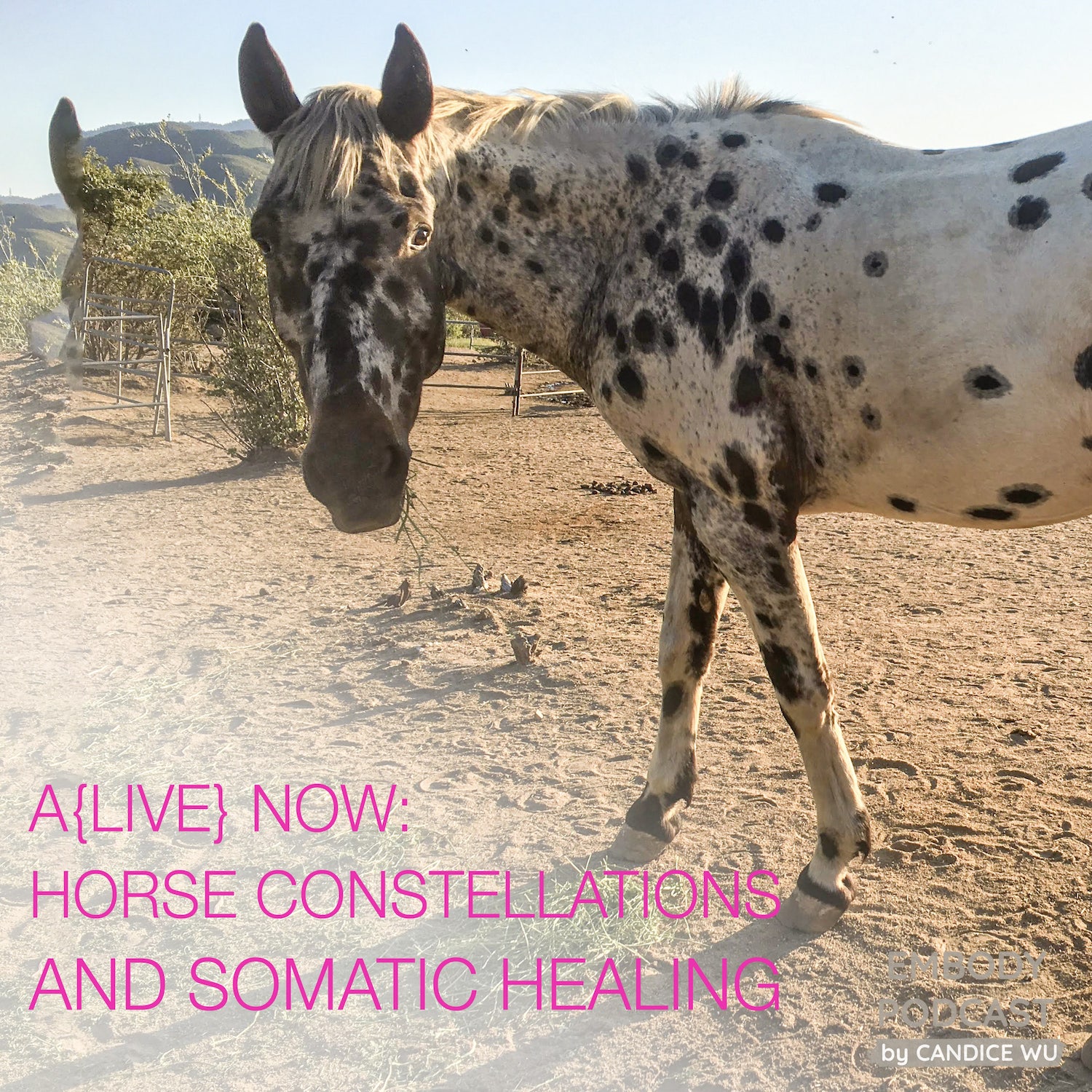 In this episode, I share about the spiritual and earthly wisdom that horses have to share — the magical moments where the horses showed me that when my energy shifted, theirs and the outer world did too, plus Somatic Healing and Horse Constellations.
This episode is a continuation of my story of being with horses, communicating with them telepathically and receiving knowledge and wisdom from them. Horses show us that there is no need to be afraid of emotion and enjoy when people are congruent with what they are feeling.
I share about magical moments where something in me shifted emotionally and instantly, or synchronously, the horses felt it and moved with me. Where Silver, the oldest of the horses, moved towards me once I released my hand from where I was stuck in codependency, nudging me in what felt like the right direction of inner knowing and trust. Where Meiji, one of the horses, took ONE step at a time with me as my right foot was trying to "unstick" from where it had been. A kind of support that felt so needed and empowering, and where Jackie, another horse stood between me and the tree that symbolized codependency, giving me the message: don't go back!
These experiences gave me the deeper knowing that our inner worlds give the expression of the outer world that we experience around us — that they go hand in hand.
Listen to the Dancing and Meditating With Horses episode where I share the first part of my experience with Sara Fancy @SaraAFancy at Silver Horse Retreat.
Links, Article, and Resources
All Show Notes for This Episode
📝https://candicewu.com/horseconstellations
 Podcast Homepage
🎧 https://candicewu.com/podcast
Newsletter & Embody Community
💌 https://candicewu.com/embody-community
Patreon – Your Support Means So Much!
💝 https://candicewu.com/patreon
Candice Wu Page on Facebook
👫 https://facebook.com/EmbodyYourNature
Follow Candice on Instagram
📷 https://instagram.com/EmbodyYourNature
Sponsored by My Restore the Flow of Love Workshop in Chicago, IL
I have an upcoming Constellations Healing Workshops in Chicago.
Whether related to abundance, money, love, dis-ease/health, relationships, career, etc., our struggles connect with our early unconscious and unspoken ways of belonging and flow of love. This connection with our lineage is carried through our bodies: the cells, viscera, the heart, energy, dis-ease, our fluidity, and freedom. Where those before us didn't get to integrate a loss or trauma or where there was an imbalance in relationship, the flow of love is disrupted as a placeholder for where there is energy, love, and strength waiting to open and flow forward towards us.
In Family + Systemic Constellations, we constellate and acknowledge the dynamics in the undercurrent of the systems you are part of whether known or unknown. We reveal the essential movements towards healing with others in the group as representative of the parts of your family or systems (community, workplace, parts of self, past life, etc.). We restore the flow of love giving more natural space, ease, and freedom to move in the world with fuller embodiment, authenticity, and truth.
Join me for Restore the Flow of Love — Chicago, Illinois — July 21, 2019 and for future and other workshops look here.
Show Notes
0:00 Intro
0:55 Invitation to My Workshops Around the World
2:29 Opening
3:48 Judging the Darkness of Your Emotions
7:34 Horses Feel Those Moments Clearly
8:38 Horses Show Us That There Is No Need to Be Afraid of Emotion
9:02 Learning to Facilitate Horse Constellations
9:30 Horses Were at Liberty in the Living Space / Arena
9:54 My First Experience: Defining an Intention for Myself
22:14 The Wisdom of This Somatic Experience With Horses
22:47 The Connection With the Spiritual World Through Horses / I Will Start Offering These Kinds of Experiences
23:38 Horse Constellations More Specifically: What Are Horse Constellations?
25:07 My Horse Constellation Experience
32:31 What We Do in Constellations
33:40 You Can Experience This Too (With Me, Others, or Sara Fancy)
34:37 Gratitude
34:50 Equine Assisted Learning With Joy Curran (Podcast & Video)
35:35 Learn More About Sara Fancy
36:08 Bi-Monthly Embody Newsletter
36:26 Other Podcast Episodes Around Trauma, Family Constellations, and Guests
36:47 Outro & Connect